Welcome to the Odd Girl Out Wiki! This whole wiki is about Morangg's webtoon: Odd Girl Out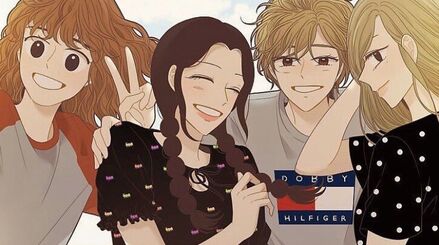 Plot:
After a successful winter break makeover, Nari is finally ready for her high school debut. But somehow, she ends up friends with the three prettiest girls in school! Follow Nari as she tries to navigate her brand new high school life surrounded by beauties. Soon Nari, fights obstacles and reaches success in realizing that she needs her friends because they support her, and they are the ines who stick with her till the end. As time flies by she creates more memories with ehr friends which keep her smiiling everyday, but shortly, she encounters the backstories of her friends.
Seoonji- She faced a horrible time in middle as her "friend", Yeseul, made up stories that would make others feel bad for her. And soon, a boy named Seungjoon falls in love with her but as Seonji doesn't share the same feelings with him, he deccides to go out with Yeseul inorder to make Seonji jealous. But in the process, Yeseul makes it seem like Seonji and Seunjoon were dating to make other feel bad for her. And Seonji gets the name of Boyfriend Bandit.
Mirae- Before middle school, her actual name is Se-ha Seo. Her story starts with her momm wanting her to be a child actress, and makes her participate in a childrens show called Children's Village, where the director edits the episodes to make Se-ha look bad on TV. As Se-ha soon gets bad, hateful, and hurtful comments on media she slowly gets gastritis and uses proper care for her health. During this time period, another famous child actor named Wookyung helps Mirae as she also meets Yuna, and she decides to go to C.H. Highschool since Yuna and Nari are planning to go.
Yuna- Yuna started with an introverted life in school surrounded by friends but disliked by her teacher. She then meets Nari through her mom, and Nari's mom and her mom were friends for a long time. Nari soon moves in to Yuna's community and soon has to go to school there too. That's when Nari meets Yuna in school and tries to be friends with her. Although, Nari's first impression on Yuna wasn't good, Nari starts to fit in with Yuna's friend group. Unfortunately, Yuna ends up in a car acciendent and is in the hospital for a couple of months, she injures her legs and her face and she has to be at the hospital till shes better. Nari comes everyday to the hospital to visit Yuna, Yuna tells Nari to stop visiting her but that dooesn't stop Nari. Once, Yuna is dismissed from the hospital, Nari used to come everyday after school to talk and play with Yuna, and Yuna grows fond of her now. Soon, as Yuna goes back to school, Nari's friend Miji and a girl who wants to be friends with Yuna, try to break Nari-Yuna's friendship, and they succed. During middle school Nari and Yuna cease communication, for three years. Till, in highschool, Yuna tries and weaves their relationship together again.
After Nari learns the truth about her friends she spends more time with them. Soon, the closer they get ends up becoming an obstacle in their parting...Yuna before she starts highschool promises her uncle, mom, and grandfather that she will got o the US for treatment for her legs. And she says that she wants one more year, and it turns out the year was more fun that she imagined. But their closeness ends when Yuna reveals that she is leaving and soon she bids farewell. After, Yuna's farewell, Mirae and Seonji stay at Nari's house and Nari starts the new season by writing a letter to Yuna. The next school year, Nari, Seonji, and Mirae end up in the same classroom.
Photos and videos are a great way to add visuals to your wiki. Add one below!
Daum

Foxtoon

KakaoPage

Lezhin

Naver

---
Community content is available under
CC-BY-SA
unless otherwise noted.